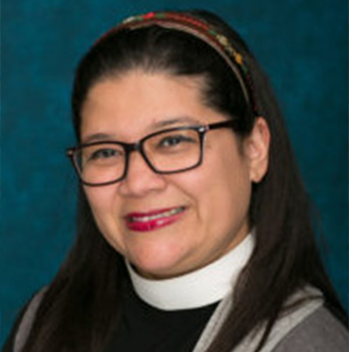 Ombudsperson and Vice President
She/her
Associate for Formation and Transition Ministry – Episcopal Diocese of Los Angeles
Costa Mesa, CA, USA
The Rev. Norma Guerra is a life-long Episcopalian born in the city of Guatemala. She came to the United States in March 2000 and she resides in Costa Mesa, California. Her father is the Rt. Rev. Armando Guerra, retired Bishop of the Episcopal Church in Guatemala. His ministry influenced and keeps influencing her life and especially her own call to the Ordained Ministry. Norma received a Diploma in Theology from Bloy House, The Episcopal Theological School at Claremont, where she received the Highest Academic Achievement Award and the Excellence in Preaching Award. She graduated with a Master of Divinity from the Episcopal Divinity School in Boston, where she received the Allison Cheek Prize in Feminist Liberation Theologies. Norma was ordained to the diaconate in June 2016 and to the Priesthood on January 14, 2017.
She is currently an Associate for the Formation and Transition Ministry for the Episcopal Diocese of Los Angeles. Previously she was Associate Priest at Church of the Messiah in Santa Ana, CA, and St. Clement's by-the-Sea in San Clemente, CA, serving both the English and Spanish-speaking communities in both parishes.  Previous to working at St. Clement's and Messiah Norma worked at All Saints Church in Pasadena for eight years where she assisted many departments including the Spanish-speaking congregation. Norma listened to her call and started her discernment process at All Saints Church and has served on different committees both in Guatemala as here in California.  Norma is passionate about multiculturalism, diversity, and inclusivity.  Norma has also served as an interpreter and translator for both the local and national churches. 
Norma is a single mother and has a fifteen-year-old son, Nicholas. She enjoys spending time with him as well as with friends and family. Norma enjoys traveling, reading, dancing, going to the movies, and watching sci-fi and action shows. She especially enjoys visiting her family in Guatemala or hosting them here in the US.